Solitaire Kingdom Supreme for MAC
Welcome to Solitaire Kingdom Supreme!The team...
$0.00
Solitaire Kingdom Supreme for MAC Overview
Welcome to Solitaire Kingdom Supreme! The team at Funkitron are huge fans of Solitaire, but always thought that current versions just weren't fun enough. So they set upon making a Solitaire game that incorporates all the aspects of game they know and love. Tired losing at Solitaire? Well help has arrived! Solitaire Kingdom is a fresh and fun version of your favorite Solitaire game, and...
read more
Screenshots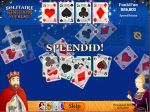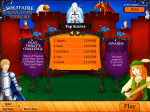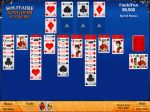 Requirements
There are no requirements for this game.
Details
Welcome to Solitaire Kingdom Supreme!
The team at Funkitron are huge fans of Solitaire, but always thought that current versions just weren't fun enough. So they set upon making a Solitaire game that incorporates all the aspects of game they know and love.
Tired losing at Solitaire? Well help has arrived!
Solitaire Kingdom is a fresh and fun version of your favorite Solitaire game, and it is amazingly addictive. Play the Solitaire you know and love, but now you get to win new special cards that will give you fantastic new powers. Add these cards to your deck and become the Solitaire master you know you are. Features include: Quick play which lets you play fast with just one click per card, an Award system that rewards you for big plays, and infinite Daily Challenges that keeps the fun going, and going, and going.
Solitare Kingdom Supreme Features:
Totally addictive and fun new way to play solitaire
Make the game as easy or as hard as you want
Unlock powerups to build your own custom games, over 16000 combinations!
Play the never seen before double deck game: Dragon Solitaire
Smooth intuitive polished interface
Beautiful cell-shaded card characters, with top notch game music
Daily challenges of the day, that are infinite!
Win awards and build your own Coat Of Arms, to show everyone how well you play.
Solitaire Kingdom. Now you get to win!
News
Solitaire Kingdom Supreme live in Mac App Store.
Got a mac? Love Solitaire? Well get ready, because Solitaire Kingdom Supreme is now live on Apple's Mac App Store!
Check it out here: Solitiare Kingdom On Mac App Store
Tips
Solitaire Kingdom Supreme for MAC Tips and Tricks
General Strategy
As you've already found out, Solitaire Kingdom Supreme is not your ordinary Klondike solitaire game. With it, come sixteen unlockable Kingdom Cards; some that can either help you or make your games a little more challenging. Right from the beginning the game encourages you to use the first, already unlocked, bonus card "Griffin", that will make sure you aren't dealt a bad hand. More on this later.
There aren't too many strategies to use until you unlock more cards and stars, but the strategies you can use are not dissimilar from playing regular Klondike solitaire. Such simple strategies are to try to clear out face-down tableau cards rather than from the deck. Also, if you're capable of sending a lot of cards of the same suit to the foundation, try not to go above four in the beginning of a game even if you have the available cards to go higher. Keep in mind, your score is reduced by 1500 points if a card is taken from the foundation and placed on a tableau card.
Availability to place a king is very important. Try to clear out the small stacks as quickly as possible if there is a king that needs a home. Often it's best to have alternating suits for these kings if you only have two spaces available.
Lastly, there are treasure kingdom cards in the game that help you earn more points and help shift the deck for those hard to get to cards. Remember where they are in the tun deck and use them wisely to reveal cards you need-- don't just grab them!
Kingdom Cards
As said previously, there are sixteen Kingdom Cards and up to eight can be used simultaneously to help make your game a lot more interesting – provided you have enough stars and slots unlocked. I'll talk more on how to make that happen later.
Griffin – (2 Stars) Unlocked immediately.
Activates at game start. The Griffin makes sure you're never dealt a game without at least an ace and two other playable cards showing.
This is a card that's essential to have until you start unlocking the more beneficial cards. So keep this in your deck until you come across the Monk, Prince, and Bard. In addition to the obvious perk of making it easier to win, it also slightly increases your chances of getting other kingdom cards on the top of the tableau where you can use them immediately.
Lady of the Lake – (1 Star) Unlocked after you make 30 moves in a game. Activates when found. Lasts 4 trips through the turn deck.
The Lady of the Lake will highlight all legal moves.
This card is essential if you want to make quick decisions and get that speed meter running high. This is an especially great way to get the score high if you pair this card with Merry Men to multiply your score.
Wizard – (1 Star) Unlocked after you reveal 136 cards from the tableau. Activates when found. Lasts 4 trips through the turn deck.
The Wizard will show the top facedown card and any aces hidden in the tableau.
The Wizard can definitely help your decision making when you have the option of turning over similar suited cards and deters you from using the Undo button (which takes away 500 points for each use). Later, when you have free cells, bard slots, and heroes, this extra information is even more useful.
Fairy Queen – (1 Star) Unlocked after revealing 75 Kingdom Cards. Activates when found. Lasts 4 trips through the turn deck.

The Fairy Queen will show all the Kingdom Cards hidden in the tableau.
This card is more of a bonus card if you have the stars to spare. This isn't necessarily an essential card to have, but it will help you find your other bonus kingdom cards if they're buried in the tableau. If you don't see a card you need in the tableau, it must be in the turn deck.
Unicorn – (1 Star) Unlocked after finding 13 Treasure cards. Activates at game start. Lasts throughout the game.
The Unicorn will make six cards golden worth 1000 points each.
Move each gold card to the foundation to get these points. Sending all six will reward you with 25,000 additional points.
The unicorn is a great card to have to boost your score. This card becomes works well when paired with Merry Men, but not so well with Evil Knight because most of the points come at the end of the game.
Thief – (5 Stars) Unlocked after sending 490 cards to the foundation. Activates when found.
Thief will find all Aces and place them in them in the foundation.
Thief is a great card to find as Aces are often hard to get to and can make playing solitaire much easier. It's very useful for getting the award that requires you to win in as few moves as possible, as it saves you 3 moves.
Evil Knight – (2 Stars) Unlocked after 8 wins. Activates when found. Lasts until game end.
Evil Knight will bet you a random number of points that you'll lose.
If you win, those points are added to your score; otherwise he'll laugh at you and take the points away from your final score. The points in the bet are always between 50% and 400% of your present score. The percentage is determined at game start, so there's no point undoing and trying to get a better deal. The best way to maximize the size of the bet is to save the card for as long as possible before activating it.
This can really boost your score, especially if you win after finding a Merry Men card. But, the challenge here is, you'll risk your score if you lose. The bet is not multiplied by Merry Men, only the score that the initial bet size is based on.
Merry Men – (6 Stars) Unlocked after you reach a top score of 217,500. Each card is activated when found. Each card lasts only one trip through the turn deck.
Merry Men multiply new points earned score by 2, 3, 5, or more points (maximum combined multiplier of 10).
When two multipliers are out at once, the total multiplier is just the two numbers added together.
There are three Merry Men cards that can be found and can greatly increase your score if you play them right. The key to unlocking Merry Men is to be quick to keep the speed meter high. To do that you'll need Lady of the Lake and having Unicorn isn't such a bad idea either. Betting against the Evil Knight will greatly increases your chances of making that score as well.
Hero – (4 Stars) Unlocked after playing 8 games.
If you find the Hero, you can place this card over another (and vice versa) to have the card turn into the card you need.
For example, if you place this card over a 10 of spades, it could turn into a 9 of hearts or diamonds. You can also play it to the foundation to get an ace or two your need. If you hover the hero card over its destination, it will flash with the new card that it will become.
This card is great for those, "too tough to find a match" cards. This card should be played wisely though as you only have one. Be sure to only use this when you're stuck.
Monk – (5 Stars) Unlocked after playing 280 cards from the turn deck. Activates when found. Lasts two trips through the turn deck.
The monk lets you flip the turn deck one card at a time.
This card is best used towards the middle of a game once your position is somewhat developed. If you use it too soon, you'll find out that there aren't many plays you can do and won't be able to take full advantage of the card before it expires. It combines well with cards that have short durations such as Bard and Merry Men, because a single trip through the turn deck lasts much longer. For this same reason, it's also great for Dragon mode.
Rogue – (6 Stars) Unlocked after 3,500 moves. Moves to bottom of screen when found. Activates once you've found it, if there are no plays from the turn deck and no plays that immediately flip a tableau card.
The Rogue will shuffle the turn deck once these conditions are met.
This card really helps when you just don't have any options left. Granted, playing the Monk could be the solution to all your problems, but Rogue is good to have as a backup, and it lasts a long time. The card is activated automatically after first finding it, so grab it as soon as possible.
Super Hero – (8 Stars) Unlocked after 41 games have been played.
This card is exactly the same as regular Hero, but there are now two.
This card is very useful when playing with the Dragon, but in a normal-sized game, having two hero cards can create a lot of options as well.
Prince – (3 Stars) Unlocked after finding two secrets. Activates immediately. Lasts throughout the game.
This card creates an empty slot on the left for an extra tableau pile.
This is a decent card when just starting out, because if you are dealt a king on the top of the tableau pile, you immediately have a way to get rid of it. However, the Prince really shines when paired with the bard, where that extra slot can hold not just a king, but any card that's bugging you at the moment.
Bard – (5 Stars) Unlocked after four games in a row. Activates when found. Lasts one trip through the turn deck.
With this card you'll be able to play any card in an empty tableau pile, not just a king.
The bard is a very powerful card, but because of its short duration, you have to be very careful with it. The bard will change the game-- normally you want to dig down through deep tableau piles so that you don't get stuck. With the Bard, you want to clear short stacks first, because every empty tableau pile gives you effectively a wildcard spot. Just be careful not to let the turn deck flip for as long as possible. You might even want to save the bard for later, when you can get more use out of it.
Steed – (8 Stars) Unlocked after 41 secrets are found. Activates when found. Lasts four trips through the turn deck. If a card is still in the free cell when it's due to expire, it will not expire until the card is removed.
Finding the Steed will free a cell where you can store any card.
This is a helpful card in addition to the Prince and Bard. It simply allows you to have more options whenever you get stuck and best to be played when you're in that kind of situation. It's like a hero card in that you can get out of sticky situations, but you can use it as many times as you can free it up.
Dragon – (9 Stars) Unlocked after achieving a total score of 3,220,000 points.
With Dragon, you play Klondike Solitaire with two decks at once with four extra foundation piles.
If you're looking for a challenge, this card will satisfy you. Playing with this many cards on hand, things might get a little confusing, but if you stick with the basic strategy, you won't find it so overwhelming. The game is actually easier to win than basic solitaire, and will give you more points since there are more moves to make. Speed bonus is particularly potent since there are more moves on the table at any given time. Prince, Wizard, and Monk are especially good powerups in combination with the dragon. Use merry men and evil knight to unlock dragon quickly.
Awards
Besides aiming to unlock more cards and stars, we can also aim to achieve the twelve awards. Most of them are not so easy to get and require a bit of time. Let's discuss a bit about what awards are available and how to achieve them.
Skill – Win a game without using the undo button.
This is a pretty simple award to achieve and most will have no problem getting this on your first game. For any new comers to solitaire, all you have to do is be patient and keep the general strategies in mind.
Good Fortune – Win three games in a row.
If in the beginning you find it difficult to achieve a streak, don't feel bad. As you unlock more Kingdom cards, you'll gain more of an advantage. By the time you get eleven stars, this will be pretty easy with Griffin, Lady of the Lake, and Prince. This isn't to say it's guaranteed to win, but your chances are much higher.
Speed – Fill the speed meter to 3,500 points.
Getting the speed meter to 3,500 can be a bit difficult in Solitaire. You have a couple things going against you. One is, after you go through the entire turn deck, the speed meter is reset to 0. Another is, you'll need a bit of luck on your side. Since Solitaire is a bit of a strategy game, rapid fire play can be testing. You upgrade the speed meter by exposing a facedown tableau card or by playing a turn deck card. Where the cards go doesn't actually matter. Not to worry, though, as Lady of the Lake is on your side. This can significantly improve your chances and often makes you earn this award pretty quickly with it. Combined with Monk, you can pretty much keep that speed meter at 3,500 for a while since you'll be going through the deck one card at a time. Other useful cards are bard and steed. If all else fails, play in dragon mode, where there will be about twice as many moves out at a time, and the turn deck goes more than twice as long between resets.
Resourcefulness – Clear the waste deck without ever playing a card to the foundation.
This award will take some patience and it is best to wait until you have access to more Kingdom cards. The first thing you'll want to do, right off the bat, is to go to your options and turn off "Quick Play" to prevent any accidental clicking that will send cards flying to the foundation. Next, choose powers that will increase the number of possible legal moves available to you. Good ones include: Griffin, Monk, Prince, Bard, and Steed, and Hero or Super Hero (You don't need them all, but the more you have, the less tries it will take). Lady of the Lake and/or wizard will help you see what your options are. Since the goal to earn this award isn't to achieve a high score, you should abuse the undo button like there's no tomorrow. By this I mean, you're going to want to test out and see what the best path to take when you uncover your tableau piles. You'll want to use Bard and Steed roughly at the same time so you can uncover as much of the tableau piles as possible. Monk will obviously broaden your options and provide an easier way to distribute your cards.
Constancy – Get a win rate of 35% over 20 or more games.
Achieving this is a lot like achieving Good Fortune for the same reason that you'll need to win. As you progress in the beginning, the best combination is literally the order in which you unlock new cards: Griffin, Lady of the Lake, Prince, and Monk. As you unlock more and more powerful cards, you'll naturally get this award. One thing that will make it much harder though is if you change your mind and abandon games a lot. Try not to do that, as it lowers your global win rate.
Grandeur – Score 500,000 points in a game.
This is not such a difficult task once you unlock Merry Men and Evil Knight. Try to use the merry men early to build up a big score, and then evil knight late to get a big bet based on that score.
Strategy – Win a game in 95 moves or less.
This is actually a very difficult award to earn and requires some patience and a really good hand. Best combination I've found was Griffin, Prince, and Thief, optionally with bard and superhero. Keep in mind, sending a card to the foundation counts as a move. So, if you have a chance to send a card to the foundation from the turn deck, do it. Sending a card to the tableau and then to the foundation is more moves, but at the same time, so is going through the turn deck multiple times. You don't want to load too many Kingdom cards because activating them counts as a move as well. So cards like Monk and Dragon greatly increase the number of moves you have to make. You can use the thief to save you 3 moves (click 1 steal aces instead of clicking four aces individually). You can use heroes to find buried 2's after you use the thief. Drag directly onto the foundation-- rescuing to the foundation with a hero is the same number of moves as playing the card here directly. Don't be afraid to abandon a LOT of games looking for a sweet initial deal when doing this award. It'll be faster than playing them all out.
Growth – Beat your personal best score 10 times.
For some players, this will be an easy award that just comes naturally. For others, it will be a struggle. As you progress through the game, you'll be given new kingdom cards to make you achieve higher scores and make the game easier. All you need to do is beat your own score 10 times. You will most likely achieve this goal without aiming for it. However, it can be very difficult if you jump right to the really powerful scoring powers immediately. These would be Place Bet, Merry Men, and Place Bet with Merry Men together. If you find yourself doing this when you only have 3 or 4 improvements (you can check your number of improvements by clicking the award on the award screen), find the combination that got you that high score, and play it a few more times before proceding to something even better. You can find your top-scoring powerup combination by clicking the "top score" field in the choose feature screen. You want small improvements. If you get really stuck, you can try place bet, merry men, dragon, and monk-- that's a pretty high scoring combination. But always try that last because you can't decrease your personal best.
Triumph – Win 50 games.
Again, not a difficult award to achieve, but does take some time. If you're reading this whole strategy guide, you'll have no problems winning.
Strength – Place 5,000 cards on the foundation.
And yet again, this is another time consuming award to achieve – lots of time. So long as you put cards to the foundation, you're on your way to earning this award. This award is the equivalent of 100 wins, or 50 dragon wins.
Perseverance – Earn all 52 stars.
The most difficult part in earning this award is making sure you fill the requirements for each and every star category:
Games Won – Achieve an increasing set number of games.
Treasure Cards – Reveal an increasing set number of treasure cards.
Total Score – Every time you score points, it's added to this.
Kingdom Cards – Every time you use a kingdom card by clicking it in the game (this also includes treasures) or use a hero, this is increased.
Turn Deck Plays – Play cards out of the turn deck.Longest Streak – This is the largest number of games you've won in a row. You can click the "win %" box on the "build your deck" screen to find the combination of cards that has won the most consistently for you. Keep experimenting. 95% and higher win rates are possible on some combinations.
Secret Keys – Obtain an increasing set number of secret keys.
The most difficult of these categories is getting Longest Streak. You first start off by having to win at least three games in a row, but it will eventually require you to win seventeen games in a row. All other categories of stars to unlock will simply come with time.
Resolve – Earn the other eleven awards.
Finally we come to Resolve, the award of awards. If you managed to achieve this award, well, the only thing left is the challenge of the day.
Final Thoughts
I hope you found this strategy guide helpful. This game is rather unique and you may discover better combinations of Kingdom Cards or even a strategy that specifically works best for you. Whatever the case, this guide should be able to provide you the quickest solution if you ever find yourself stuck.